R&K SHOOTING SUPPLY
(RON & KAYNA MCGARR)
P.O. BOX 883
PORTOLA, CA 96122
(530) 251-3324
pull@rkshootingsupply.com
The Gun Glove
THE GUN GLOVE is for ALL Shooters!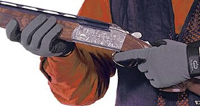 THE GUN GLOVE provides the ultimate in comfort and performance for trap, skeet & sporting clays shooters. Lighter suede palms and fingers, no linings and lightweight polyester forchetes for additional breathability and sensitivity.
The gloves are close fitting providing and excellent grip with a sensitive tactile touch to the gun Breathable construction assures your comfort by keeping you cool in the summer and warm in the winter and due to The Gun Glove unique materials.
The gloves can be machine washable, restoring the original fit and feel.
Available in Beige/ Brown & Grey/Black | Made in 13 different sizes assuring a true fit for all hand sizes Sizes for Women & Men: Available in XXS thru XXL
$38.00