R&K SHOOTING SUPPLY
(RON & KAYNA MCGARR)
P.O. BOX 883
PORTOLA, CA 96122
(530) 251-3324
pull@rkshootingsupply.com
Foxy Gun Rests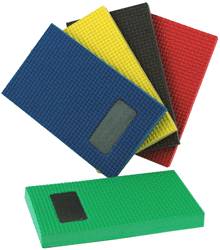 Foxy's Magnetic Gun Rest Made with a foam rubber pad, these pads allow you to rest your gun without placing it on your toe.
Moves with you from station to station on the end of your gun barrel.
SIZE: 3" X 5-1/8"
Colors: Green, Blue, Red, Black or Yellow.
*Colors may be lighter than they appear in the picture.
$15.00